For your ease of navigation, please click on one of the following links to go directly to a specific book category.
Click on the book covers for more information on each of the books.
Cookbooks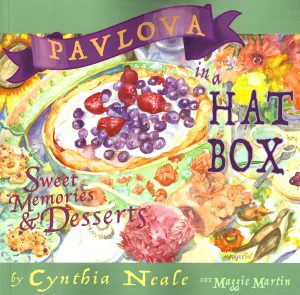 PAVLOVA IN A HAT BOX
Sweet Memories & Desserts
by Cynthia Neale
Pear Tree Publishing, 2015
ISBN: 978-1-62502-007-9
A music CD made especially for Pavlova in a Hat Box with 22 solo
piano improvisations by Linn Brown is available as a package deal.
Purchase from the author on Amazon.
"As a chef taught by his mother, I find Cynthia Neale's Pavlova in a Hat Box a stroll down memory lane. You can feel the love and passion in every word. The photos are enticing and the recipes delicious sounding and inspiring. The book has captured the true feeling of pleasure, beauty and love that gathering around the table can bring to family and friends."
–
Chef Harry
,
www.ChefHarry.com
---
Family Narrative & History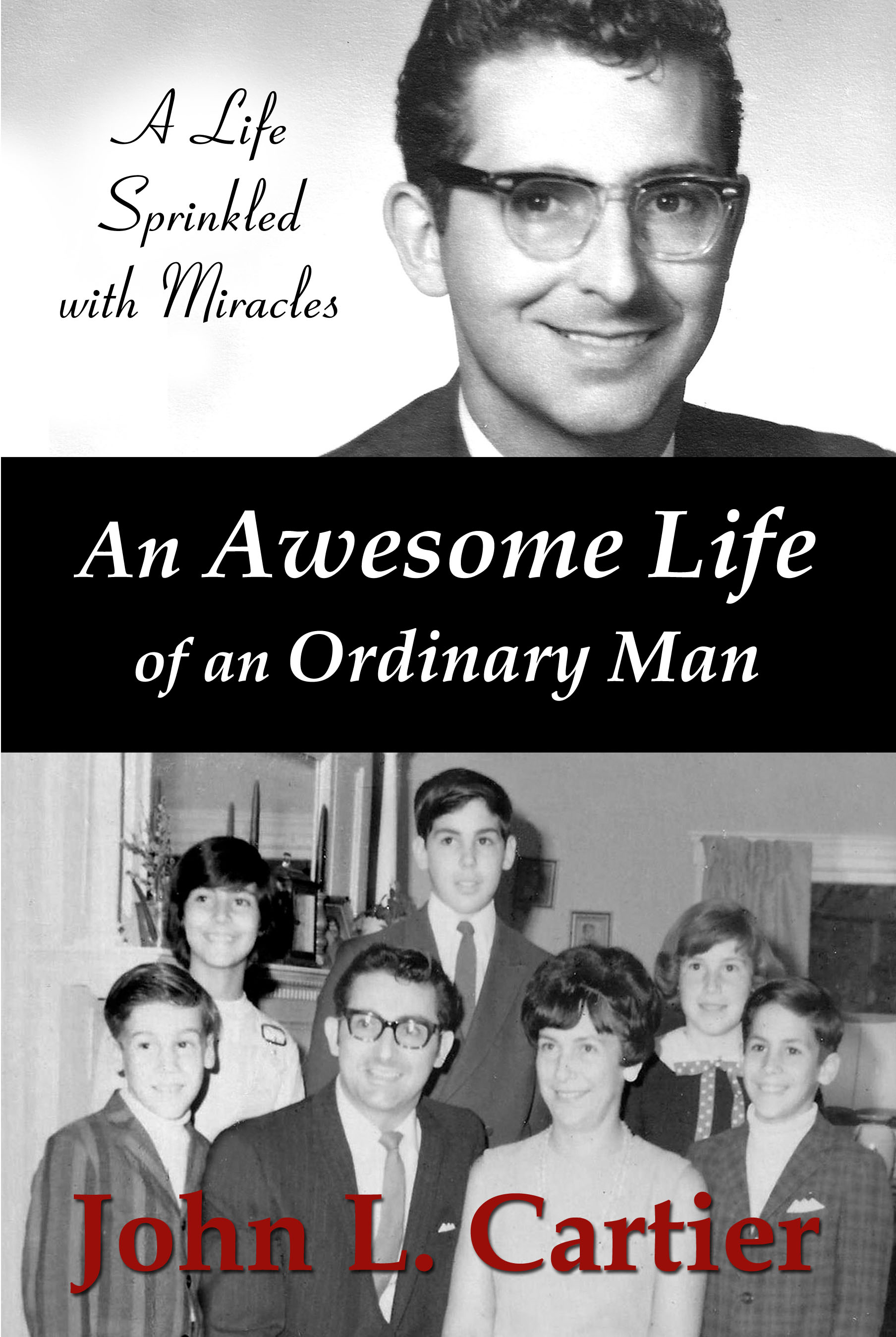 AN AWESOME LIFE OF AN ORDINARY MAN
by John L. Cartier
Pear Tree Publishing, 2017
$16.00, ISBN 978-1-62502-019-2
A life sprinkled with miracles.
"What a wonderful book! A cultural "history" and family "biography" all in one. Showing how, bit by bit, through the lens of five generations of one family, the still-living pillars of the Haverhill community have survived and grown strong: with faith, kindness, neighborliness, generosity and love. This book truly teaches us how awesome is an "ordinary" life." – Freda Bein Muldoon, Attorney and Teacher, retired
---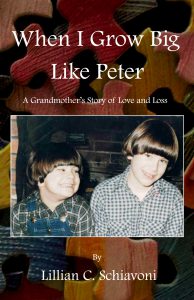 WHEN I GROW BIG LIKE PETER
by Lillian C. Schiavoni
Pear Tree Publishing, 2016
$45.00, ISBN 978-1-62502-005-5
A tale of love and loss.
"Ever since I can remember I wanted to write a book. About what? I didn't know but when I was able to write my name and got my first library card I wanted to write a book. When I Grow Big Like Peter came to my mind and I began to write down what happened to Peter and Matthew whenever they came to visit their "Nonnie" (Grandmother in Italian dialect.) I wanted to share their "antics" with the world. I hope you enjoy reading these stories as much as I enjoyed writing them." – Lillian C. Schiavoni
---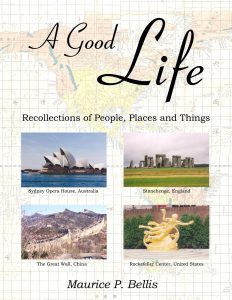 A GOOD LIFE
by Maurice P. Bellis
Pear Tree Publishing 2013
$30.00, ISBN: 978-0-9821983-9-1
An exciting story of the Bellis Family's life and travels
"In recent years I have talked with my family and friends about the best way to pass on one's life story. Several felt that the records they have filed away in their archives would be sufficient. These records would certainly tell of the successes and maybe disappointments, but the personal feelings would not be there. The many little things that one remembers would be missing. I felt the best way to included these things would be to write a memoir in my own words and style. It took quite a while and many rewrites to put it all together. But when others read it, they may pick up their pens or sit down at their computers and try writing their own memoir." – Pete Bellis
---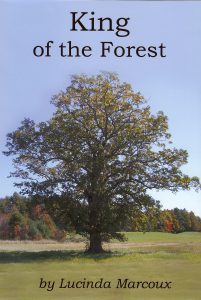 KING OF THE FOREST
by Lucinda Marcoux
Pear Tree Publishing, 2009
$24.95, ISBN: 978-0-9821983-0-8
A touching story of one family's struggle with cancer, a must read
"King of the Forest seduces the reader. A new young literary voice emerges in these pages with a compelling tale. It is a love story. In a literary world weary of dysfunctional families, Lucinda Marcoux gives us a family where love transcends the sadness of loss, where bonds between brother and sister become the instruments that heal even as medicine fails. What a wonder of writing when the reader is at once filled with tears and joy! This is a story that causes us to look anew at our own lives and losses and to find meanings that we have missed."
Jeffrey Colman Salloway, Ph.D.,Department of Health Management and Policy at University of New Hampshire
---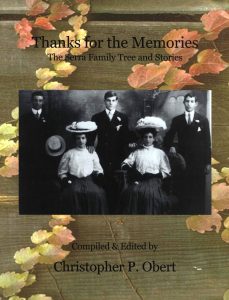 THANKS FOR THE MEMORIES
The Serra Family Tree and Stories

edited by Christopher P. Obert
Obert Publishing, 2004, B&W images
$55.00, ISBN: 0-9749291-0-7
Sold Out
"Replete with numerous family photographs, genealogy reports, charts, and stories of family happenings, this narrative traces the five generations of the Serra family. This is a book that non-family members will pick up to read in order to learn of the lives of recent immigrants as they adapt to the new surroundings and customs so different from those of the ancestral homeland. A non-Serra descendant and non-Italian, this reviewer found the book well done, educational, and just plain fascinating." – ACD, Book Reviewer, Connecticut Society of Genealogists
---
Guidebooks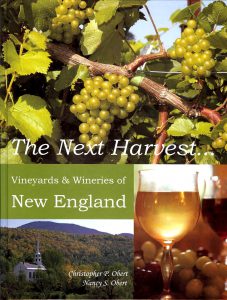 THE NEXT HARVEST…
Vineyards & Wineries of New England
by Christopher P. Obert & Nancy S. Obert
Pear Tree Publishing, 2008, Full Color
$40.00, ISBN: 978-0-9749291-8-7
Now $20.00 – 50% off

Many wine enthusiasts wish that they had a time machine. With it they could travel back to sunny California during the 1970's and witness firsthand that exciting time in wine history. Well, you don't need a time machine to experience wine history being made. It is being made right now in New England!
New England has long had a reputation for Yankee hospitality and ingenuity. Today those same values are being harvested and refined by a new generation of New England winemakers. Using their winemaking skills and the natural down-home goodness of the New England air, soil and sun, they strive to create some of the most unique wines available in America. From Boston to Bar Harbor, Hartford to the White Mountains, Newport to Quechee Gorge, New England has hundreds of new and exciting tastes and smells to explore. The adventure awaits, are you ready to join in the fun? Taken from the back cover
The Next Harvest book trailer
Nancy Obert featured on Write Now
This book is also available on Amazon
---
Gift shops and Wineries – Now is the time to stock your gift shop shelves with The Next Harvest… Vineyards & Wineries of New England the premier guide book to the wineries of New England. This book is currently on sale at the lowest price ever, $200 per case (14 books) plus $10 shipping and handling.
---
History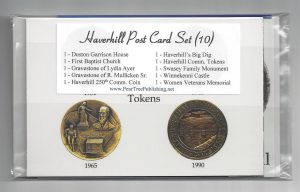 HAVERHILL, MASSACHUSETTS – POSTCARD SET
10 postcard sets & 20 postcard sets
by Christopher P. Obert
Pear Tree Publishing, 2015
10 different color and black & white postcards
for Haverhill, Massachusetts' 375th Anniversary
$10.00 – 10 postcard set
$18.00 – 20 postcard set
(two of each postcard)
In 2015 Haverhill, Massachusetts celebrated its 375th Anniversary. To pay tribute to this event, Pear Tree Publishing has created 10 different postcards depicting Haverhill. These images include: The Duston Garrison House; The Gravestone of Lydia Ayer; Haverhill Commemorative Tokens and The Women Veterans Memorial. These color and black & white postcards are available in two sets. The first set has one of each of the ten postcards. The second set has two of each postcards. Order them while supplies last.
---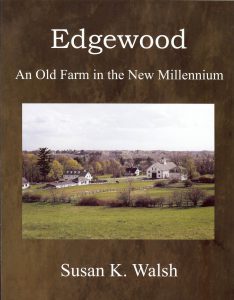 EDGEWOOD
An Old Farm in the New Millennium
by Susan K. Walsh
Pear Tree Publishing, 2011, Full Color
$25.00, ISBN: 978-0-9821983-1-5
200 Years of North Andover History

"I experienced sights and sounds no different from those of the last century, and almost no different from those of the last two hundred years. In the coming years, the farm and its surroundings would undergo more changes than it had for those two hundred, but at that moment, that rare day in June, it stood unchanged, timeless – the epitome of the New England farm in Spring." – Susan K. Walsh
Susan K. Walsh featured on Write Now
---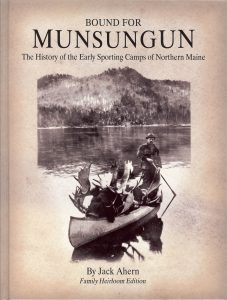 BOUND FOR MUNSUNGUN – Family Heirloom Edition
The History of the Early Sporting Camps Of Northern Maine
by Jack Ahern
Pear Tree Publishing, 2009, B&W images
$35.95, ISBN: 978-0-9749291-9-4
Hard Cover Edition with over 20 pages of new material!
Sold Out

"Jack painstakingly researched his book, which introduces readers to the pioneers, families and guides who earned a living in some of the state's most unforgiving territory. "Bound for Munsungan" is a bit like the territory it describes: It's a hard-edged, rustic, no-nonsense account. You don't find long, flowery passages full of adjectives and descriptions in Ahern's work. The collected black-and-white photos take care of that brand of heavy lifting. You do learn something new on every page, however, as Ahern walks you though the region's history and introduces you to people like Will Atkins, Milt Hall, Walter Grau and the Libby family." – John Holyoke, Bangor Daily News
---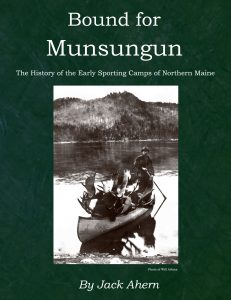 BOUND FOR MUNSUNGUN
The History of the Early Sporting Camps Of Northern Maine
by Jack Ahern
Pear Tree Publishing, 2008, B&W images
$24.95, ISBN: 978-0-9749291-6-3
Sold Out

Jack Ahern has always had an interest in history. He made his first visit to the Maine woods on a hunting trip to Ripogenus Dam in 1947. After visiting Munsungun Lake at the headwaters of the Aroostook River in 1956, he became a regular guest at the Bradford Camps and has continued to hunt and fish this area for over forty years. While at these camps, many yarns are spun during both the fishing and hunting season. He realized that there was a great deal of history that could be either lost or recorded for future generations. It was evident that the older guides and the camp owners were eager to reminisce about their early years in these Maine woods… These are those stories and tall tales; we hope that you enjoy them! Taken from the back cover
---
Spiritual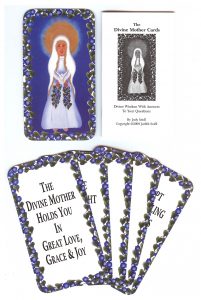 THE DIVINE MOTHER CARDS
Divine Wisdom with
Answers to Your Questions
by Judy Seidl
Pear Tree Publishing, 2008, 33 cards & booklet
$23.50, ISBN: 978-0-9749291-7-0
Makes a great unique gift

The Divine Mother "Divine-ation" Cards use a little spin on the word divination. Divination is a technique, or form, of tapping into the energy of a higher source. You are able to receive messages/answers/inspiration to many of your questions. The information can help you if you are seeking a new/different direction in an area of your life or if you need guidance on your own personal self development/spiritual development. These cards can be a very effective tool for healers and teachers. They can provide helpful information and insights during sessions and workshops. Have fun, open your heart wide, and fulfill your heart's desires!
---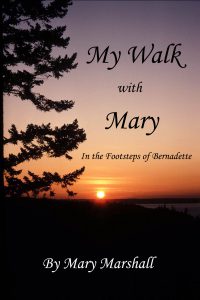 MY WALK WITH MARY
In the Footsteps of Bernadette

by Mary Marshall
Pear Tree Publishing, 2007, B&W images
$14.95, ISBN: 978-0-9749291-5-6
 inspired story for anxious times
This is the true story of Mary Marshall's encounter with a woman from Arizona who channels Mother Mary. During their sessions together Our Lady revealed to the author that she embodies the spirit of Bernadette! Now after almost a century and a half, the Blessed Mother has come again to tell the world her original message spoken to Bernadette during the apparitions at Lourdes; a message that was deliberately altered. Hear the words of the Blessed Mother as she encourages us to take back our Divine Power. Our Lady will go on to explain ascension, reincarnation and our Sacred Contracts. In these troubling times of chaos and uncertainty people are desperately searching for answers. Mary's book, My Walk with Mary: In the Footsteps of Bernadette, will bring inspiration and hope to a world so greatly in need of comfort. Taken from the back cover
---
Sports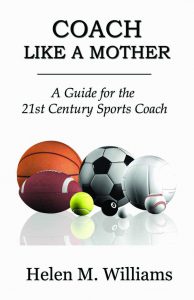 COACH LIKE A MOTHER
A Guide for the 21st Century Sports Coach
by Helen M. Williams
Pear Tree Publishing, 2013
$20.00, ISBN: 978-0-9821983-5-3
"Helen's book is insightful, funny and most serious. She allows the reader to view and ponder the socio-intellectual aspects of the profession through her own experiences and resultant philosophies. It is a terrific read for all young coaches and a must read for those contemplating entering the coaching profession." – Charlie Titus, Vice Chancellor for Athletics & Recreation, Special Projects & Programs-University of Massachusetts Boston
Helen Williams featured on 1510 NBC Sports Radio
E-book available on Amazon, Barnes & Noble and Kobo
---