For your ease of navigation, please click on one of the following links to go directly to a specific book category.
Novels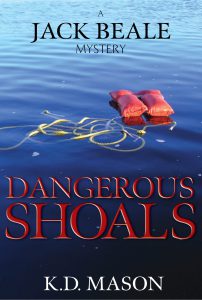 DANGEROUS SHOALS
A Jack Beale Mystery #3
by K.D. Mason
Pear Tree Publishing, 2011
$16.95, ISBN: 978-0-9821983-3-9
A Jack Beale Mystery #3

Dangerous Shoals & Killer Run book trailer
This book is also available on Amazon
Spring has arrived in the small New Hampshire coastal town of Rye Harbor and all seemed right in the world. Jack Beale and Max, the feisty red haired bartender at Ben's Place, are back together after their splitup the previous year and are looking forward to enjoying a carefree summer together. Then, someone who they thought was just a memory reappears, pursued by a psychotic killer. When he ends up dead, Jack and Max become the killer's new targets. What should have been an easy, relaxing summer for Jack, Max and his cat, Cat, becomes a battle of wits and a fight for survival. Taken from the back cover
---
K.D. Mason's Jack Beale Mysteries are on sale.
Buy all nine books (Harbor Ice, Changing Tides, Dangerous Shoals, Killer Run, Evil Intentions, Unexpected Catch, Black Schooner, Jessica's Secret and his new book Canceled Out) for one low price of $115.00 plus S&H. Click the "Add to Cart" button below to get this great price. Jack Beale Mysteries book trailer.
---
Short Stories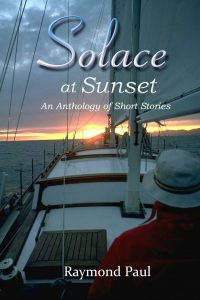 SOLACE AT SUNSET
An Anthology of Short Stories
by Raymond Paul
Pear Tree Publishing, 2013
$16.95, ISBN: 978-1-62502-003-1
Life is good, it was all worth it
This book is also available on Amazon
"This book is about people and places, emotions and thoughts, faith and nature. Most people in their lifetime have encountered these things that I have written about. If you observepeople and places there are stories all around you to be told. Perhaps you have thought of your life as a puzzle. At times you found there were missing pieces. It is my hope I can help you fit the pieces into your puzzle of life. Enjoy the book and piece by piece you will finish the puzzle." – Raymond Paul
---